Venue
5th World Congress on Electrical Engineering and Computer Systems and Science (EECSS'19)
August 21 - 23, 2019 | Lisbon, Portugal
The EECSS'19 Congress is composed of 5 conferences
We are pleased to announce that the 5th World Congress on Electrical Engineering and Computer Systems and Science (EECSS'19) will be held at the Hotel Real Palácio. More importantly, we have collaborated with the hotel to offer our customers a reduced rate on the accommodations! This discounted rate is only valid until May 12, 2019.
Discounted Rate Booking Form
Hotel Real Palácio
Restored from the former Guedes Quinhones Palace, which dates back to the 17th century, the Hotel Real Palácio is a piece of history located in the heart of Lisbon. The five star hotel combines classical and contemporary styles for a comfortable stay that also allows a glimpse back into the past. Guests are invited to the Real Cozinha Restaurant to creatively reimagine traditional Portuguese cuisine or to the Health Club for a relaxing spa experience. For more information on how to reserve a room, please see the accommodation page.
Travelling around the city is quick and easy with buses and metros right on your doorstep. Hotel Real Palácio is also just a 15 minute car ride away from two airports, Lisbon Portela Airport and Terminal de Mercadorias do Aeroporto de Lisboa, for a fast arrival and departure. Most importantly, the Hotel Real Palácio is encircled by museums, restaurants, and cultural sites for any newcomers to Lisbon interested in experiencing the city. With the coast merely a short metro ride away, visitors are sure to fall in love with this city by the sea.
For more information on Hotel Real Palácio, please visit: realpalacio.realhotelsgroup.com.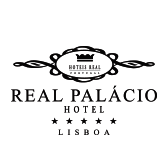 Hotel Real Palácio
R. Tomás Ribeiro 115
1050-228 Lisboa, Portugal